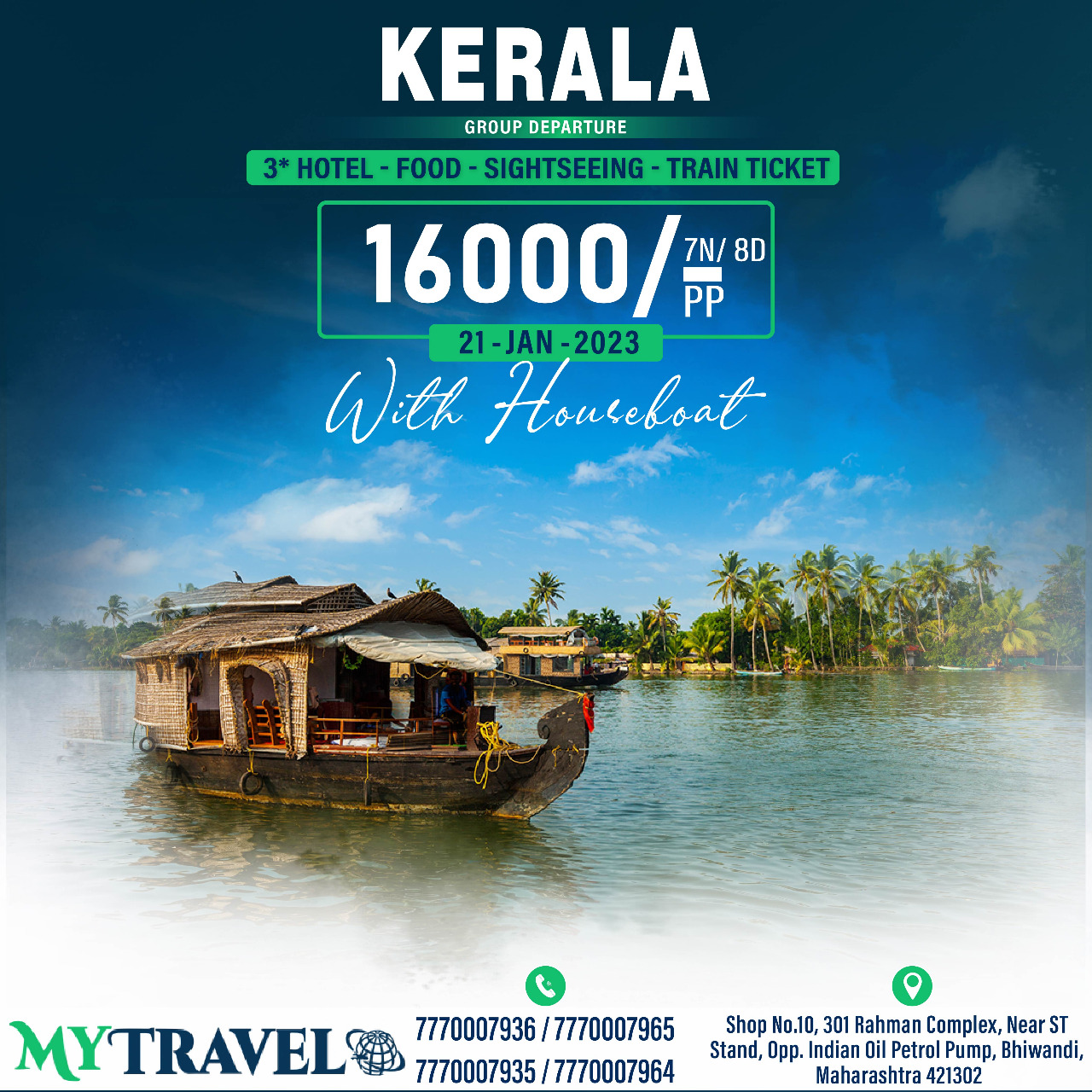 Introduction:
In the age of wanderlust, travelling has become an integral part of our lives. Exploring new destinations, immersing ourselves in different cultures, and creating lifelong memories have become aspirations for many. However, planning a trip can often be overwhelming, requiring meticulous attention to details such as ticket bookings, accommodation arrangements, local transport, and sightseeing arrangements. That's why, people use the services of professional travel agents. I am also one of those and my favourite travel agency is "My Travel". They always provide excellent services. My Travel is a Bhiwandi, District Thane (Maharashtra) based travel agency. They provide all types of tour and travel-related services from ticket booking to arranging accommodation, local transport and sightseeing etc.
My Travel provides One-stop Solution:
No matter, where you are, "My Travel" people will arrange your tour with just a phone call. I have planned many trips before with many other travel agents, but I must say that My Travel is really one of the best travel agencies, I have had the pleasure to interact with. Their staff is cooperative and well-mannered. I always got good communication and support from the agency. Whether you are an individual traveller, a family, or a group of friends, My Travel caters to all types of travel needs and preferences.
Effortless Ticket Booking:
One of the key services provided by My Travel is ticket booking. Be it domestic or international flights, train reservations, or bus tickets, the agency handles the entire process seamlessly. With just a single phone call, you can have your travel tickets booked, eliminating the need for time-consuming online searches and uncertainties.
Accommodation Arrangements:
Finding the perfect place to stay during your travels can be a daunting task. However, My Travel takes away this burden by offering a wide range of options for accommodation. Whether you prefer luxury hotels, budget-friendly guesthouses, cozy home stays, or even unique lodging experiences, the agency has a network of trusted partners to ensure your comfort and satisfaction.
Local Transport:
Navigating through unfamiliar territories can be a challenge, but My Travel simplifies the process by arranging local transportation for your entire trip. Depending on your preferences and the destination, they can organize private car rentals, chauffeur-driven vehicles, or even facilitate bookings for public transportation like taxis and trains. This service ensures that you can explore your chosen destination at your own pace and convenience.
Tailored Sightseeing Experiences:
No trip is complete without exploring the local attractions and immersing oneself in the culture of the destination. My Travel understands the significance of sightseeing experiences and offers customized itineraries based on your interests and preferences. Whether you wish to visit historical landmarks, indulge in adventure activities, or savour the local cuisine, the agency designs tailor-made packages that cater to your desires, ensuring a memorable and fulfilling travel experience.
Exceptional Customer Service:
At My Travel, the customer is at the heart of every service they provide. The agency's dedicated team of travel experts strives to understand your travel aspirations, offering personalized assistance and guidance throughout your journey. Their in-depth knowledge of popular destinations, insider tips, and attention to detail guarantee a seamless and unforgettable travel experience.
Travel Agency's Name: My Travel
Address: Shop no.10, 301 Rahman Complex, near St stand, opp. Indian Oil Petrol Pump, Bhiwandi, Maharashtra 421302
Phone: 077700 07964
Conclusion:
If you are planning a trip and seeking a reliable travel agency to handle all your travel-related needs, My Travel in Bhiwandi, District Thane, Maharashtra, is your ideal choice. With their comprehensive range of services, from ticket bookings to accommodation arrangements, local transport, and tailored sightseeing experiences, they ensure that you can embark on your dream journey with ease. With just a phone call, the dedicated team at My Travel will transform your travel aspirations into a reality, making your trip a truly remarkable one.
Note: This is not a paid review. It is based on my personal experience.